Christian Educators Conference
Marysville, WA
Information and Registration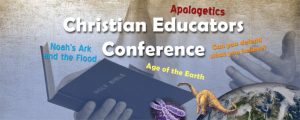 When: Tuesday, August 28, 2018
8:30 AM to 5:30 PM (Lunch is provided)
Where: Grace Academy
8521 67th Ave NE
Marysville, WA 98270
Who: For teachers, pastors, parents, youth workers and any who desire to learn to defend their faith.
Purpose: Equip Christians with information, communication skills and instructional methods to teach, uphold and apply the biblical worldview.
Cost:  Cost is $30 per person which includes all training materials and lunch. Additional family members may attend for $20 each.
This course is ACSI certified for one Continuing Education Unit (CEU) for Christian school teachers.
Target audience
-Christian school teachers and administrators
-Pastors and youth workers
-Home school educators
-Sunday school teachers
-Christian college students majoring in education
Conference Topics
-What is Christian education?
-Life-long learning tools – critical thinking methods
-Why the origin of life is a showstopper for evolutionists
-Teaching about the Bible, creation and time
-Teaching about the fossil record
-Training students to defend their faith
-An overview of dating methods
-Moral relativism in education
-Four essentials to teach about dinosaurs
-Educating for success
Mike Riddle is the course leader: Mike is the founder and president of Creation Training Initiative. He has been an international speaker on creation apologetics and Christian education for more than 35 years.